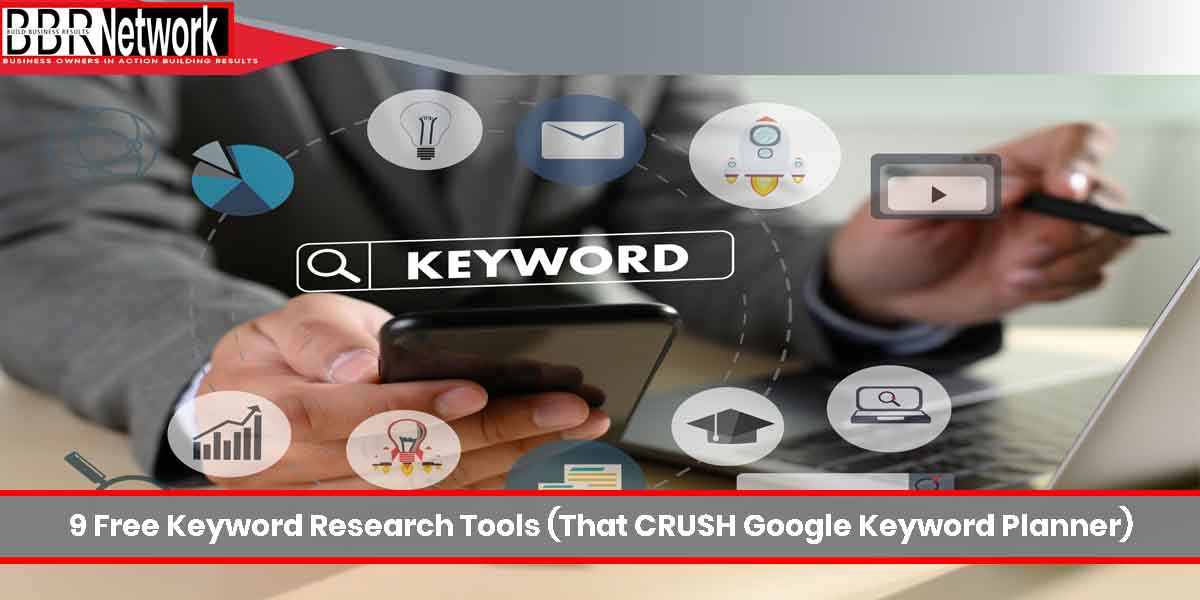 06 Dec

9 Free Keyword Research Tools (That CRUSH Google Keyword Planner)

By using effective keyword research tools you can determine a popular (profitable niche), find related markets, rank well in search engines for specific topics to drive traffic to your site and promote your products and/or services by enhancing your marketing effectiveness.

Here are some free keyword tools to help kickstart your SEO with zero investment.

And If you want to get your business or sales funnel launched fast to attract clients consistently, do check out our IGNITE Business Accelerator Program.

​​​​​See you on the action-field,
Raksha Sukhia, SMB Growth Expert,
Founder BBR Network. #bbrnetwork
Are you tired of Google Keyword Planners restrictions? Then you're in the right place.
Remember the good ol' days when GKP was awesome?
You could enter any 'seed' keyword and see tons of keyword suggestions, plus search volumes.
Now, Google has restricted these numbers to general ranges. 🙁
SIDENOTE.
You can still see exact numbers, but only if you spend enough on AdWords campaigns for Google to deem you worthy of such data.
Don't get me wrong, it's still a useful tool. It suggests some good keywords, splits them into groups (which is useful), and is 100% free.
But if GKP is the only tool you're using for keyword research, then you're missing out.
Yeah, you can use a tool like Ahrefs Keywords Explorer which has tons of data, features, and filters. But what if you're just starting out and can't justify paying for any SEO tools whatsoever?
Here are some free keyword tools to help kickstart your SEO with zero investment:
Let's delve deeper into each of these tools.
Let's kick things off with another useful keyword tool from Google: Google Trends.
Google Trends visualizes how search trends change over time.
Enter a keyword, and you will see the relative popularity of that search query over the past 12 months.
To show how this can be useful, let's check the Google Trends data for "protein powder."
It looks like the search popularity of this query is quite stable throughout the year.
But if we look closely, we can see that there is a gradual decline between August and December, with popularity spiking in January.
This is likely because many people are on a 'health kick' in January.
If we check Google Trends data for the past five years, we can see that this is, in fact, an annual spike.
(This is information that we couldn't glean from Google Keyword Planner.)
So if you have a fitness blog, it may make sense to publish a piece of content about protein powder in early January.
But Google Trends has another cool trick up its sleeve: related queries.
Drop down to the bottom of the page and you'll see a 'related queries' box:
Google is perhaps the most powerful keyword research tool on the planet.
There's the "autosuggest" feature for generating an almost infinite number of keyword ideas. But that's only the tip of the iceberg when it comes to using Google for keyword research.
For starters, take notice of the "People also ask" box that shows up for some searches.
These are questions that Google knows searchers are asking and want to know the answers to.
And here's a quick trick:
Click on any of these questions, and Google will load more.
Keep doing this, and you can generate an almost infinite list of the questions people are asking.
But Google's use as a keyword research tool doesn't end there.
Let's say that there's a keyword you want to rank for. There are a lot of factors at play when it comes to SEO, but one things certain:
If you want to rank in 2019, then your content needs to align with
search intent.
That means not trying to rank the homepage of your gym for a query like "how to lose weight?"
People making that search aren't in buying mode. They're in learning mode.
Google is your best friend when it comes to understanding search intent. Just look at the search results and presence of SERP features.
For example, imagine that we're an email marketing tool and want to rank for "email marketing."
Looking at the search results for that query, I notice two things:
First, there's a featured snippet.
This is almost always a sign of informational search intent. It tells us that the searcher is in learning mode. They want to see blog posts and guides, not product pages.
Second, there are quite a few beginners guides.
That tells me that most searchers are email marketing noobs who want to learn the absolute basics of email marketing.
So, that's what we should create if we want to rank for this keyword.
Now, if we search for something totally different like "dress," we see the complete opposite:
All the results are ecommerce product or category pages.
Google even shows shopping ads.
This tells us the searcher is in buying mode.
Bottomline? Don't overlook Google as a keyword research tool. Keyword research is about more than just finding keywords. It's about understanding who is searching for them and what they want to see.
Free vs. paid keyword tools: how do they compare?
It's quite simple—free keyword tools are somewhat limited compared to paid tools.
That's not to say that free tools don't have their uses. But the amount of keyword ideas and data they give to access will always pale in comparison to paid tools.
Because of this, paid tools allow you to go way deeper and do more advanced marketing research.
To illustrate, here's what happens when I type "protein powder" into Ahrefs' Keywords Explorer:
~110K "phrase match" suggestions from our database of 7.6 billion keywords. No free keyword tool runs on a database that large.
We also show all manner of data points, including:
Estimated monthly search volume;
Keyword Difficulty (KD);
Clicks;
CPC
All searchable, filterable, and returned within seconds.
SIDENOTE.
We add new keywords to our database and refresh search volumes every month.
Doing this with free keyword tools would be next to impossible.
Plus, to make any real decisions on the competitiveness of a keyword, you should analyze the top 10 ranking pages.
You can do that in Google to an extent. But in Keywords Explorer, show backlink data, traffic stats, and more for each of the top 10 results.
Just scroll down to the SERP Overview.
SERP overview for "protein powder" in Ahrefs Keywords Explorer.
FYI: As far as we're aware, no other keyword tool—free or paid—can do this.
Final Thoughts
Don't get me wrong, you can find some good keywords with free keyword tools.
But doing-so can be very time-consuming. And time = money.
The reality is that time spent mining Google Autocomplete for individual queries is wasted time. The same is true of merging data from many free keyword tools together in spreadsheets. You should aim to use that time for more important stuff, like creating content or link building.
What's more, paid keyword tools—like Ahrefs Keywords Explorer—run on HUGE amounts of data. That makes them much more efficient at finding low-competition keywords. You know, the type that may actually be worth targeting.
Bottomline: free keyword tools are good, but not as good as paid tools. (Surprising, right?)
Let me know in the comments if you know of any other cool free keyword tools—I will consider adding them to the list. 🙂
Related Post