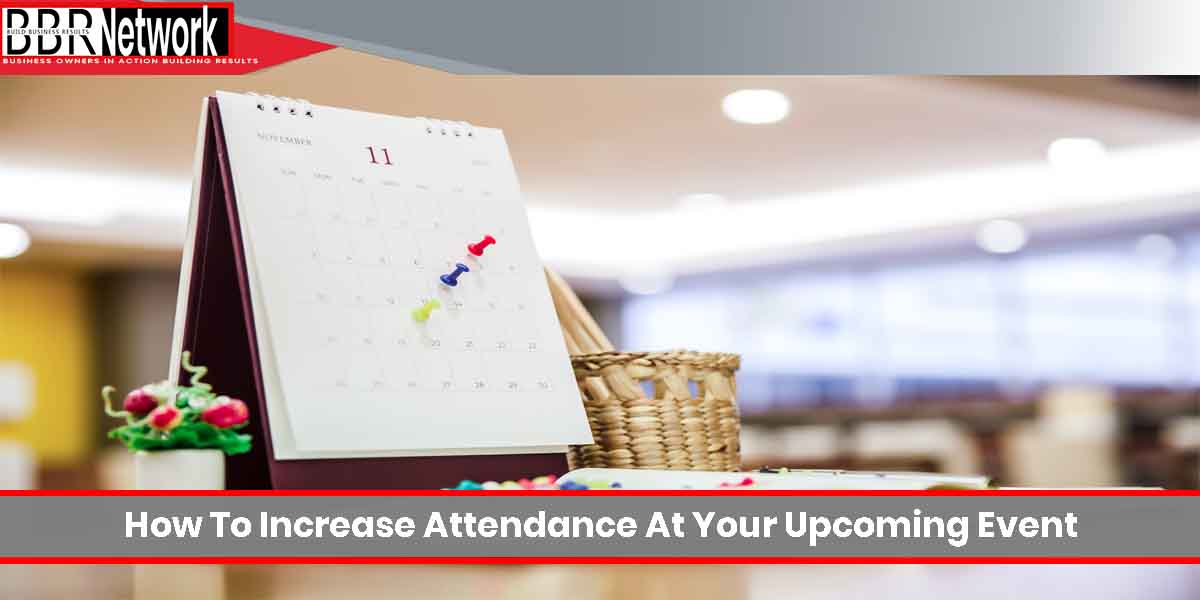 09 Dec

How to Increase Attendance at Your Upcoming Event

Increasing attendance and attracting the right people to an event doesn't happen by accident. This process usually starts in the initial stages of planning. You want to attract enough guests to fill seats and make the event a financial success.

Here are five tips that can help you and don't forget to share this in our Build Business Results Network.

And If you want to get your business or sales funnel launched fast to attract clients consistently, do check out our IGNITE Business Accelerator Program.

​​​​​See you on the action-field,
Raksha Sukhia, SMB Growth Expert,
Founder BBR Network. #bbrnetwork

With so many events in the digital marketing world, it can be hard and stressful for planners to sell every ticket to their event.

But maximizing event attendance is a critical tactic in gaining a meaningful return on investment from your event, and in establishing your organization as an industry thought leader. As a result, planners need to creatively market their event to their target audience

So how can planners ensure they fill seats at their next event? Check out our five tips that can increase attendance at your next event.
Social Media Can Be A Lifesaver
Understanding how social media can be used to promote your event is so important. Not only is social media a free tool, but it also has the ability to reach an extremely wide audience. Using social media,
you can answer potential attendee's questions about your event, repost mentions of your event, create an event hashtag and more. These tactics will help attract future attendees and engage attendees during your event.
Use Podcasts To Get The Word Out
Like social media, industry podcasts are a great way to reach a wider audience and promote your event. After identifying the most influential podcasts in your industry,
reach out to the hosts and see if someone on your team can join a segment. During the episode, your staff member show-off their industry knowledge and invite listeners to your event. In return,
you can promote the influencers' podcast on your social media accounts. Joining and promoting your event through a podcast is a great way to attract relevant attendees to your event.
Build A Targeted Email List
In addition to social media and podcasts, building a targeted email list can be a great way to increase attendance for your event, whether it is an online seminar or conference in Las Vegas. To build these lists,
you can utilize past sales and current, former, or potential customers. Your email list should include contacts that would find your event interesting and relevant. For invitees, you really want at your event,
include discount codes, free tickets, or other promotions to spark their interest.
Content Marketing With Details And Attendees
Utilizing content marketing can be another useful tactic in increasing attendance at your event. You can identify pre-existing content that is relevant to your event and promote it on your event page.
You can also create new content surrounding your event. A popular content marketing tactic right now is writing "list" blogs, like "The Best Tech Conferences in New York" or "The Top Tech Conferences in 2019".
Including your event in one of these lists is a great way to increase the search engine optimization (SEO) ranking of your event. Not only will using content marketing, like writing list blogs,
help improve your event's SEO and reach a wider audience, it can also help your company be seen as an industry thought leader.
Take Out Ads In Relevant Publications
Taking out ads or sponsoring content in relevant, popular publications can be a useful way to draw attention to your event. In these ads,
you can mention what will be presented at a conference or what speakers will be in attendance. Before taking out an ad,
ask the publication if they will do a cross advertorial by posting on your ad in their publication and on their social media feeds. Doing this will help you maximize the ROI of your ads.
As you can see, there are various ways to increase attendance at your business' next event.
Take time to assess where you can improve and implement these tactics into your event strategy to maximize attendance and make your event a "can't miss".
Related Post