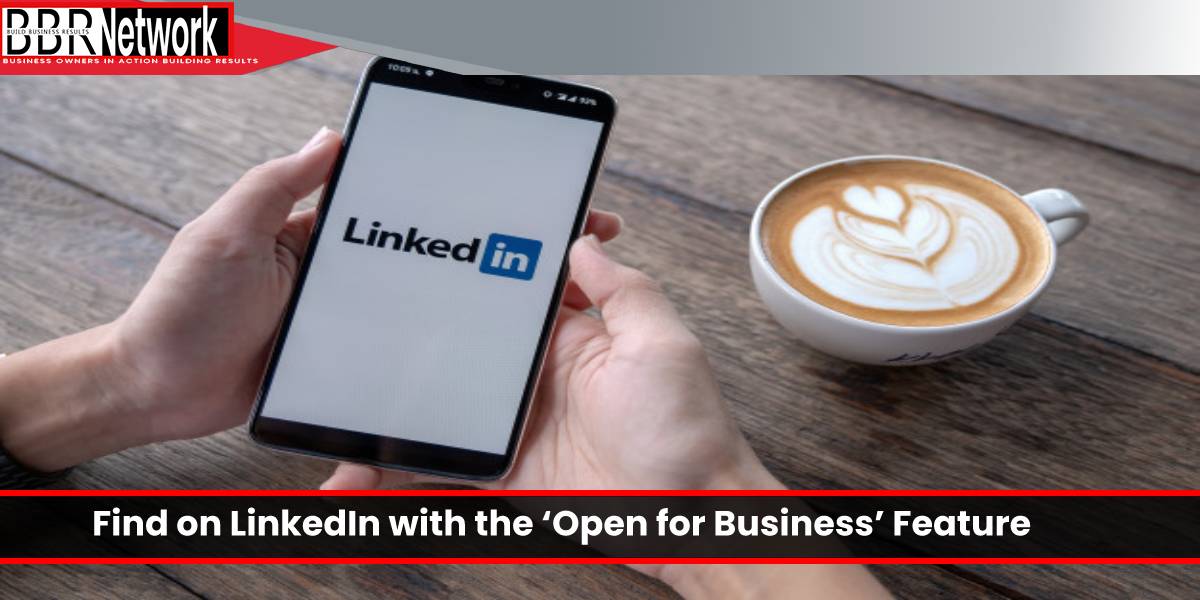 12 Oct

Make Your Business Easier to Find on LinkedIn with the 'Open for Business' Feature

Posted at 10:00h

in

Advertising Metrics

,

Brand awareness

,

Business Tips

,

Content Marketing

,

Conversion Rates

,

Customer Acquisition Costs

,

Customer Conversion

,

Digital Marketing

,

Lead Generation Strategies and Tips

,

Market & Client Research

,

Marketing Automation

,

Marketing Automation

,

Marketing Budget

,

Marketing Metrics

,

Publicity and PR

,

SEO and Adwords

,

Small Busines Growth

,

Small Business CEO Personal Development

,

Small Business Growth

,

Small Business Marketing

,

SMB Business Setup

,

SMB Profitability

,

Startup

,

Strategic Marketing

You can use the Open for Business feature to take better advantage of your LinkedIn network. The feature allows small business owners and professionals to network and connect with members looking for the services they offer, and it allows service providers to reach potential clients.

Have you already tried using this feature? Tell us more about your experience!

And If you want to get your business or sales funnel launched fast to attract clients consistently, do check out our IGNITE Business Accelerator Program

​​​​​See you on the action-field,
Raksha Sukhia, SMB Growth Expert,
Founder BBR Network. #bbrnetwork

Learn about the new "Open for Business" feature and how to use it to make it easier for your prospects to find you on LinkedIn.

"Open For Business" is a new LinkedIn feature that helps contractors, freelancers and small business owners stand out in a sea of competition. It allows you to tell your prospects and anyone searching for your services that you're available, what you offer, and where you are.

Not only that, it's also Indexed by search engines, it's searchable by all 650M+ members on LinkedIn and it allows potential clients that aren't connected to you on LinkedIn, to message you for free about your services, without using Inmail. It makes it that much easier to be found by the exact people searching for your services.

Most small businesses typically rely heavily on word of mouth. And in an effort to support their small business audience (totalling 10 million users on LinkedIn), this is a way for you to capitalize on and be part of the digital "word of mouth" conversation.

Essentially, it's a new way to show up in search results so that people searching for the services you offer can find you when they are in-market. When you add services to your profile using this new feature, you'll show up in searches being made for exactly what you offer.

LinkedIn clarifies it like this:
If you've noted that you provide marketing services or accounting services for example, and a member searches for "marketing," or "accountant" they'll now be able to see you in their search results with a highlight about the services you provide. From there, we encourage members to message you directly to inquire about your services.
How Does "Open For Business" Work?
You'll be able to add your services directly to your LinkedIn profile. It looks like this:
And here's what it looks like for people searching for your services once you've activated the "Open For Business" Feature:
To activate the feature, simply:
Visit your profile page from your mobile app or desktop, and if this feature is turned on for you, you'll see a box under your profile photo/headline that talks about how to showcase the services you provide.

Click "Add Services," and then fill out the form to provide details about the services you provide. Be as detailed as possible so members who view this section have a good sense for what you provide.

Click "Continue" and this will automatically be added to your profile.

Please Note:
Currently, this feature is only available to LinkedIn members with a U.S. Premium Business Subscription, and LinkedIn plans to make this available to all small business owners and freelancers in the U.S. by this fall. However, if you are interested in gaining access to this feature and don't have the required subscription, you can sign up here.
Want More Advice on How To Grow Your Business Using LinkedIn?
While this feature gives you another opportunity to be found on LinkedIn, it has its drawbacks.

If you want a proactive and proven process to use LinkedIn to find, attract, and book sales appointments with your high-value prospects, be sure to check out our latest workshop below.

It's a process that is 100% doable for any business no matter your current stage of growth or your familiarity with LinkedIn.