Description/Who is this E-Learning Program for:

We get it. You're an expert in your field but not a marketer. But you know that in today's online world you must have a digital presence. The way to attract clients to your coaching business or consulting practice is to build your list and nurture it. But how? Now you have it. Access to our Signature eight-module IGNITE Your Income, Your Influence, and Your Impact in a self-paced e-learning format, that blends the best practices in digital marketing, sales enablement and practice development in an Eight Module Program, that gives you just enough training but at the same time makes it actionable. The program cuts through the chase to give you a step-by-step process for building a three-step inbound lead generation system for one target audience and one market segment, from which you can grow. The format for this in a self-paced e-learning format with workbooks and templates to be completed alongside the program. All modules are prerecorded live sessions and questions and feedback and support will primarily be provided in the private BBR Business Accelerator Community.
For more information on what is included and Live Program Dates, please visit: https://www.buildbusinessresults.com/ignite
PLUS: You'll get 365 Days Free Membership Access to our BBR Private Business Accelerator (Priced at $897 for the year) where you will get access to our Proprietary BBR Business Advisory and be able to interact with other participants, likeminded business owners and solopreneurs, and also get support as you grow.
Who is this E-Learning Program for:
Any business owner wanting to grow their business by leveraging the power of direct response inbound marketing, quickly.
What's Included:
Access to our Signature Eight-Module IGNITE Your Income, Your Influence, and Your Impact in a self-paced e-learning format (Valued at $497/LIVE Program Priced at $1299).
IGNITE Playbook with "Playbook" and Easy to Populate Templates. Weekly, in the private community you will get the playbooks to help guide you through the key inputs of the program. You will also have the opportunity to seek inputs and get the collective intelligence of the BBR Network Private Business Accelerator Community.
Free Membership Access to our BBR Private Business Accelerator which included our highly publicized proprietary BBR Business Advisory: an online repository packed with hundreds of hours of actionable learning, strategies, tools, customizable email automation campaigns, and advertising library, elevator pitch samples, sales letters, partnership/ joint venture and other business growth strategies, specifically designed for the solopreneur or small business looking to take their business to the next level. Think of it like an MBA in small business growth, structured for DIY, and at your fingertips 24-7 (Free Access for 365 Days, Priced at $897).
.
What Covered in the Modules:
Module 1: Establishing Your Positioning: Getting your targeting right. In this session, we will look at your business & market segment & look at your overall positioning.
Module 2: Developing Your Messaging and Brand Story:  Articulating your brand and value proposition whilst developing an important starter piece of brand collateral that will serve you as you talk to your prospects.  We'll discuss different ways to make it compelling.
Module 3: Map Your 3-step "Prospect Capture" Process: Develop your ongoing lead capture system & sales funnel. In this module, we will write key attraction statements & begin to understand how all the elements of an automation lead capture funnel fit together.
Module 4: The Basics of Traffic and Automation Tools: Building on the three-step funnel, you'll be ready for automation to maintain a lead capture mechanism. In this session, we will delve into the key digital marketing components & how the strategies and tools fit together to develop your client attraction process.
Module 5: Understanding a Value Ladder and Developing your Product Stack: In this session, we will understand the purpose of a value ladder to increase revenues and discuss product UP-&-DOWN sells, bundling as a way to increase revenue and begin to establish solid, achievable revenue goals.
Module 6: Conversion Copywriting and Creating a Content Framework: We will review the BBR's Conversion Equation model and apply it in developing conversion copy for your sales capture process.
Module 7: Nurturing Leads through the Customer Journey via a Drip Campaign:
Building on your product stack & market segmentation we will hone the key stages of your customer buying journey from awareness to consideration and purchase. You will anticipate objections to your buyers & begin drafting out your email automation drip campaign.
Module 8: Pulling it All together and Getting the Business Essentials in Place:
In this session we'll put into place and understand some of the "dashboard" and metrics you'll need to put into play to continue to evaluate and monitor your campaigns, to scale your business and meet your financial goals.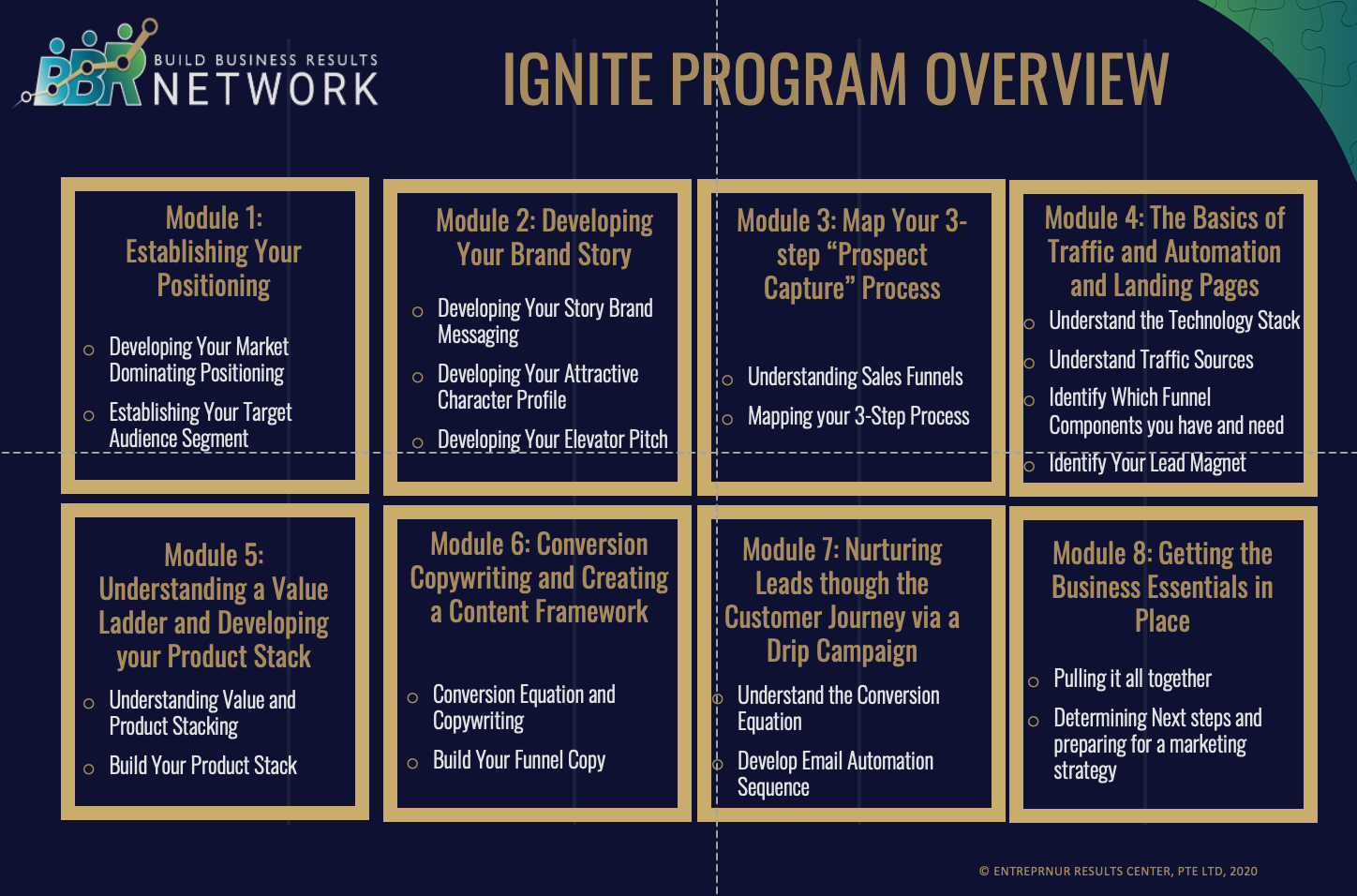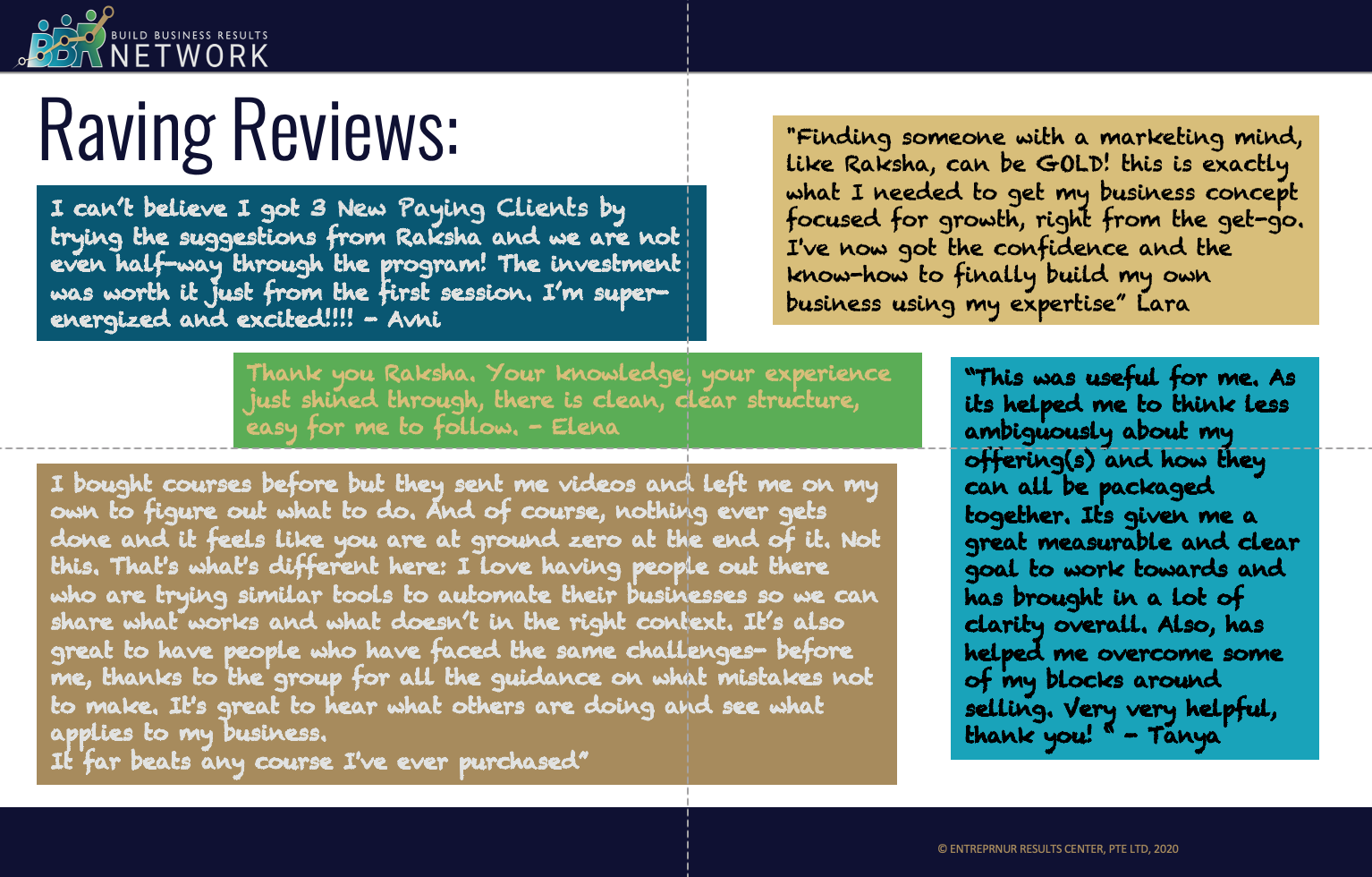 *Note Some Subscriptions and one-time set-up costs may be required at the expense of the business owner. These may include hosting, themes, and email marketing, calendar scheduling, and other services. You will be guided through the process. 
** Please note that there are no consulting sessions in this package, so if you want additional support you'll need to purchase additional sessions.
*** Note time/duration depends on the Business Owner's readiness and ability to develop inputs required to complete promptly.